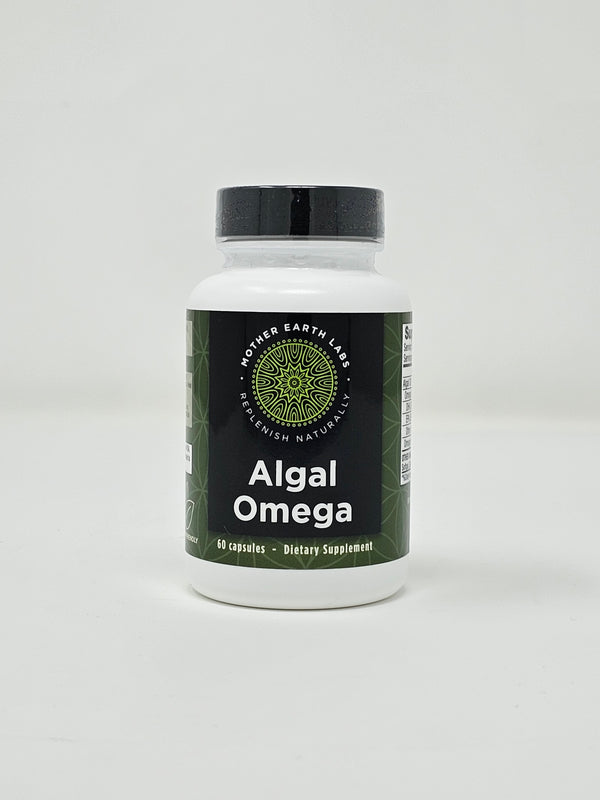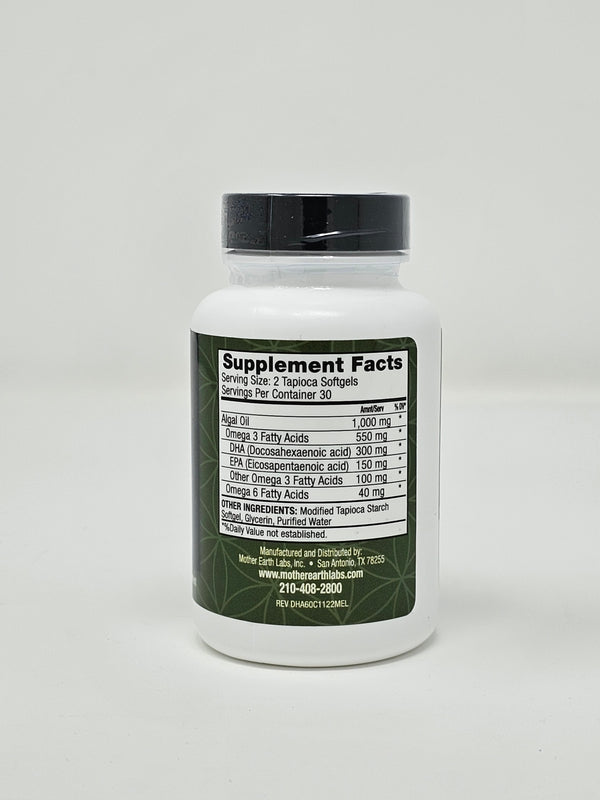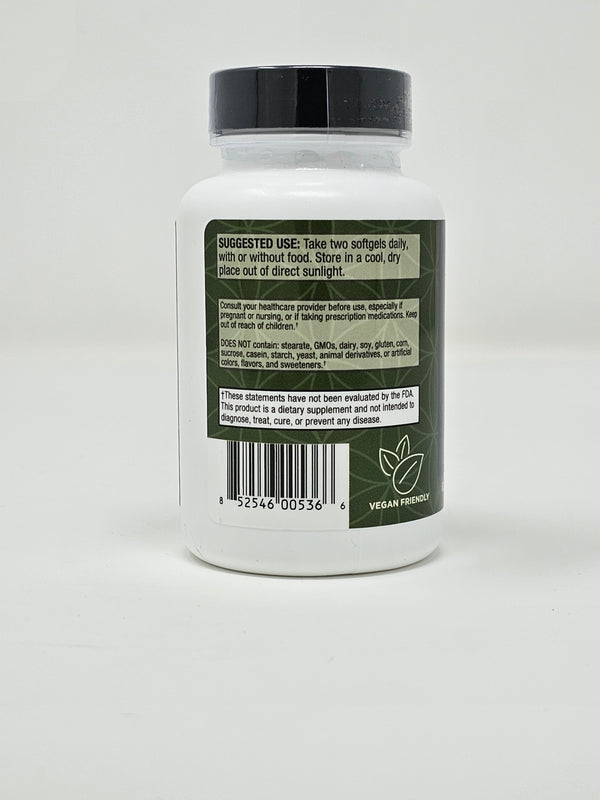 Suggested use: Take two softgels daily, with or without food. Store in a cool, dry place out of direct sunlight.
Bioactive & Sustainable Omega-3s

Give your body the omega-3's it's been missing with the highest, quality, fish-free supplement available.
Highly concentrated, plant-based DHA & EPA
Small, easy-to-swallow softgels
USA grown & harvested algae using sustainable, eco-friendly methods
Vegan-friendly, bioactive omega-3s
Is Painful Inflammation Slowing You Down?
Wide-spread inflammation is a common problem that leads to physical, emotional, and mental decline. It's almost always blamed on poor diets overloaded with omega-6 fatty acids.
But, even though omega-6s can and do contribute to inflammation, not all of them are bad. In fact, certain omega 6s are necessary for good health. So, limiting them isn't likely to fix the problem.
The truth is, our standard American diet is lacking in high quality omega-3s and what omega-3s it does provide are usually in a form that our bodies don't use well.
We need biologically active forms like EPA and DHA – those found in fatty fish like salmon – But there are problems with relying on fish or fish oil supplements.
Fresh fish is expensive, especially with today's inflation

Fresh fish and fish oils have a high risk of mercury contamination

Fish oil products can be unstable and go rancid quickly

Modern farming and fishing methods are ecologically destructive

Specialty diets (vegan and vegetarian) do not allow fish 
For these reasons, many people turn to foods fortified with omega-3s including natural plant sources such as flax and chia seed. But these foods provide omega-3s as Alpha Lipoic Acid (ALA) – an inactive form that, despite being considered an essential nutrient by the FDA, is not usable by our bodies. It must be converted into biologically active forms such as Docosahexaenoic Acid (DHA) and Eicosapentaenoic Acid (EPA). Unfortunately, on average, only 5% of ALA gets converted and that's only IF we aren't deficient in certain minerals or dealing with other health issues that compromise the conversion process.
Thankfully, there's a better alternative. 
Algae is the only plant-based source of DHA and EPA Omega-3 Fatty Acids and it's where fish get their omega-3s. Algae is a renewable source easily farmed in eco-friendly facilities. Since there are no fish involved, algae-based omega-3 supplements don't have the same risk of mercury contamination and there are no unpleasant fishy burps.
The Benefits Of DHA And EPA Omega-3s
May Help Reduce Broad-Range Inflammation
Omega 3s are commonly recommended to help counteract the effects of inflammatory omega 6s, but there are differences between how DHA and EPA work.
DHA has shown to lower the production of four proinflammatory proteins, while EPA only lowers one type. Additionally, DHA has shown to lower the secretion of white blood cells from three types of pro-inflammatory proteins, while EPA again only lowers one.
EPA, on the other hand, may be better at helping the body maintain a healthy balance between proinflammatory and anti-inflammatory proteins through its effects on the immune system (1).
May Help Protect Against Cardiovascular Disease
There is a growing body of scientific studies on the effects of omega 3s on heart disease risk factors. Many of these studies have found associations between increased omega 3 intake and improvements in triglyceride levels and cholesterol profiles. In fact, omega 3s are even given to certain individuals with very high triglyceride levels as a prescription. 
Supports Brain Development & Sustained Brain Function
DHA is essential for fetal brains and eyes during pregnancy and early childhood with known deficiencies being linked with learning disabilities and other cognitive disorders later in life.
Further, with natural aging, our brain's structure begins to change and it's fat and DHA content drops. These changes are associated with degenerative diseases such as Alzheimer's and other forms of dementia.
Not surprisingly, multiple studies have linked DHA supplementation with substantial improvements in overall brain function.
*These statements have not been evaluated by the Food and Drug Administration. This product is not intended to diagnose, treat, cure, or prevent any disease.