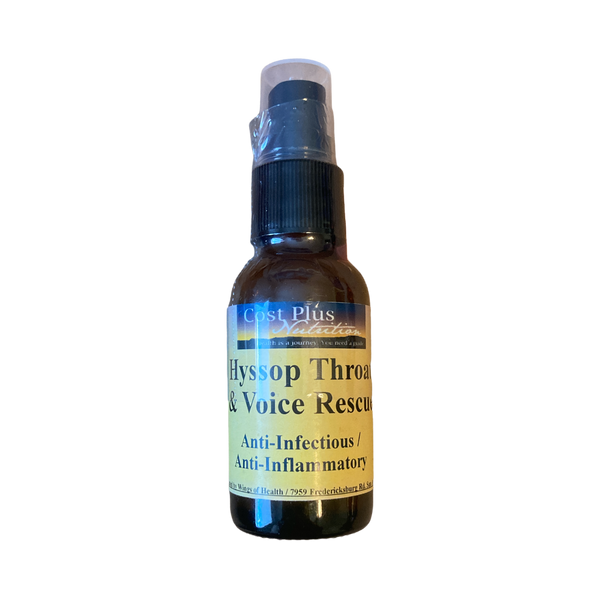 DESCRIPTION:
Hyssop is a flowering European plant used for digestive and intestinal problems including liver and gallbladder conditions, intestinal pain, intestinal gas, colic, and loss of appetite. It is also used for respiratory problems including coughs, the common cold, respiratory infections, sore throat, and asthma.
Hyssop Throat and Voice Rescue is formulated to help with the latter. Blended with colloidal monoatomic silver (an anti-microbial mineral) and a swathe of other essential oils and hydrosols, it'll help with everything from infections to the occasional post-concert voice loss!
INGREDIENTS:
Hyaluronic Acid

Fulvic and Trace Minerals
Hydrosols of Peppermint and Tea Tree
Colloidal Silver
Stevia Leaf Extract
Essential oil blend of Hyssop, Frankincense, Myrrh, Ginger, Eucalyptus, Clove, Lemon, and Peppermint
DIRECTIONS:
Shake vigorously and apply 2–4 sprays into the mouth, gargle, and allow circulation in the throat for 30 seconds to one minute. Hyssop Throat & Voice rescue may be swallowed and followed with a small glass of room temperature water.
For acute conditions take every hour until symptoms subside.