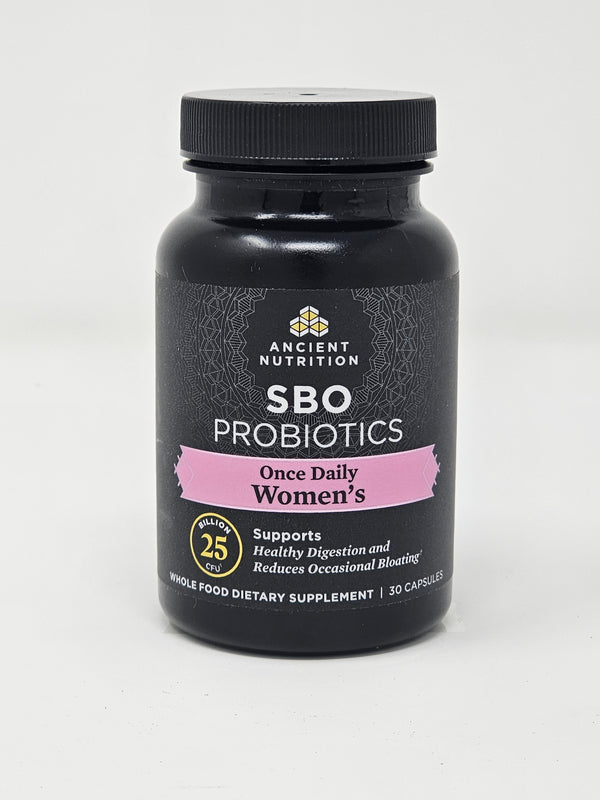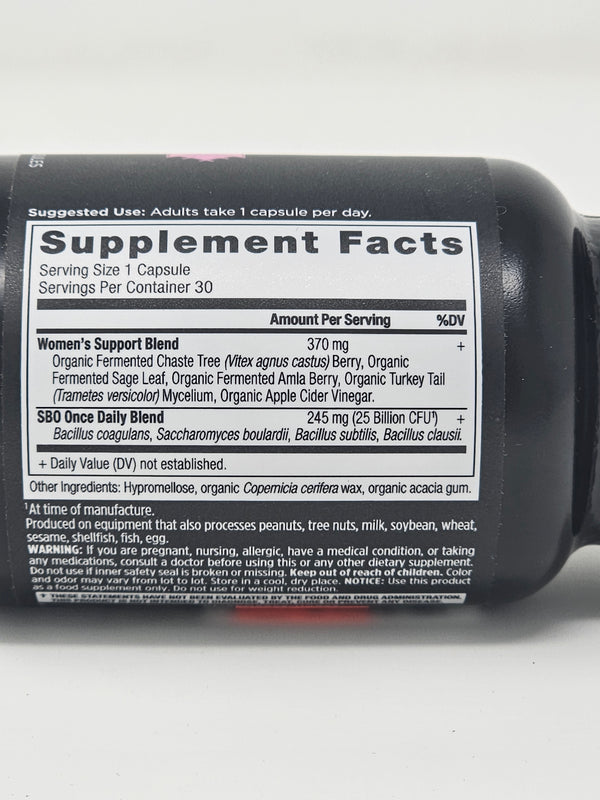 Key Ingredients
Get prebiotics, probiotics and postbiotics plus time-tested superfoods for comprehensive gut support.
Superfood Support
Looking for the best probiotic for women? Designed specifically for the female body, this formula brings you superfoods like organic fermented chaste tree berry, amla berry and sage leaf, plus turkey tail and apple cider vinegar — all used for centuries to support women's wellbeing. Fermentation works to unlock important nutrients and compounds within the ingredient, which helps make it easier for your body to absorb.
Clinically Studied Probiotics
Every serving contains 25 billion CFUs* (*at time of manufacture) of proprietary, clinically studied Saccharomyces boulardii, Bacillus clausii, Bacillus coagulans and Bacillus subtilis. With the exception of Saccharomyces boulardii (which is a yeast that acts as a probiotic), these four strains are soil-based organisms or SBO probiotics: microbes that naturally occur in the soil. SBOs are uniquely resilient and don't require refrigeration. They're designed to thrive in your gut by creating an environment that promotes healthy bacteria – unlike other common probiotics strains, which often can't even survive at room temperature.
Prebiotics & Postbiotics
We take a trifecta approach to gut health by pairing clinically studied probiotics with prebiotics and postbiotics. Prebiotics act as fuel for probiotics, and postbiotics are the metabolites (enzymes and organic acids) that are created by probiotics. Together, they provide powerful support for digestive health.
Clinically Studied Ingredients
Whenever possible, we believe in using ingredients backed by clinical studies. "Clinically studied" means our ingredient is a) supported by proven research, b) backed by peer-reviewed studies and c) tested for efficacy, safety and transparency. Using clinically studied ingredients means that when we make claims about our products, we really mean them.
Full List Of Ingredients
Women's Support Blend
Organic Fermented Chaste Tree (Vitex angus castus) Berry, Organic Fermented Sage Leaf, Organic Fermented Amla Berry, Organic Turkey Tail (Trametes versicolor) Mycelium, Organic Apple Cider Vinegar.

SBO Once Daily Blend
Bacillus coagulans SNZ-1969, Saccharomyces bouolardii SNZ-1986, Baciillus subtiilis SNZ-1972, Bacillus clausii SNZ-1971

Other ingredients: Hypromellose, organic Copernicia cerifera wax, organic acacia gum.
* These statements have not been approved by the FDA. These products are not intended to diagnose, treat, cure, or prevent disease.