Ancient Nutrtion Multi Collagen Brain Boost Vanilla 45 servings Get 15% off at Checkout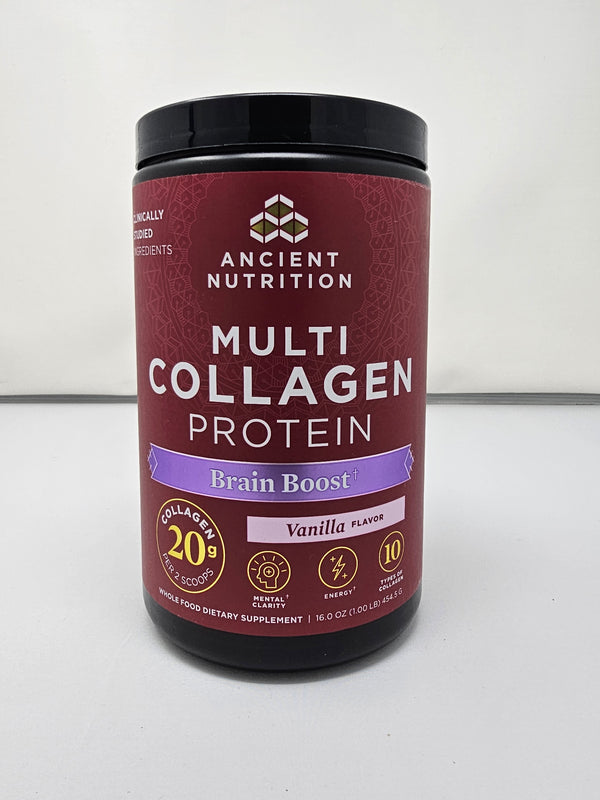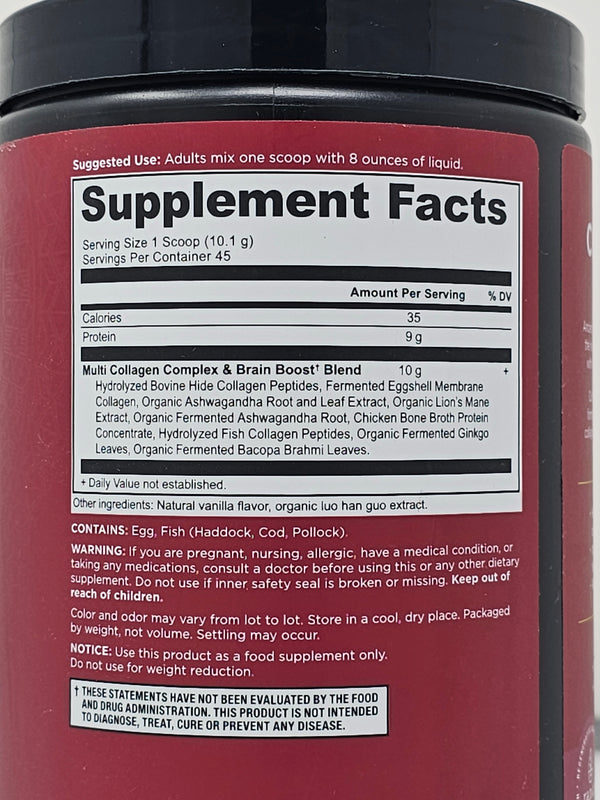 Key Ingredients
This multi-source formula is designed to bring you all the real results of collagen, plus brain-boosting botanicals that help you stay focused and think clearly.
Clinically Studied Fermented Eggshell Membrane Collagen
We're the only leading collagen supplement brand on the market currently with a proprietary fermented eggshell membrane collagen ingredient backed by human clinical studies, proven to provide real results as early as day one.† This fast-acting ingredient provides collagen types I, III, IV, V, VII, VIII, X, XII and XXII and supports joint, gut and skin health.†
Brain Boost Blend†
This superfood blend combines organic fermented ashwagandha root, ginkgo leaves and bacopa brahmi leaves, plus organic ashwagandha root and leaf extract and organic lion's mane extract. These powerful botanicals have been used for centuries to support concentration, focus and positivity.† Ashwagandha is one of the most-studied adaptogenic herbs available, and our lion's mane is grown on our own regenerative farmland — so we can ensure the highest quality ingredients possible.
Bovine Collagen
Our bovine collagen peptides come from sources that are grass-fed and pasture-raised, cruelty-free, and made without hormones. These collagen peptides offer collagen types I and III, and provide support for healthy nails, gut, joints and skin.†
Full List Of Ingredients
Multi Collagen Complex
Hydrolyzed Bovine Hide Collagen Peptides, Fermented Eggshell Membrane Collagen, Chicken Bone Broth Protein Concentrate, Hydrolyzed Fish Collagen Peptides

Brain Boost Blend†
Organic Ashwagandha Root and Leaf Extract, Organic Lion's Mane Extract, Organic Fermented Ashwagandha Root, Organic Fermented Ginkgo Leaves, Organic Fermented Bacopa Brahmi Leaves.

Other ingredients: Gelatin, organc Copernicia cerifera wax
Contains: Egg, Haddock, Cod, Pollock
 Adults Mix 1 scoop with 8oz of liquid
*These statements have not been evauated by the Food and Drug Administration. This Product is not intended to diagnose, treat, cure, or prevent disease.