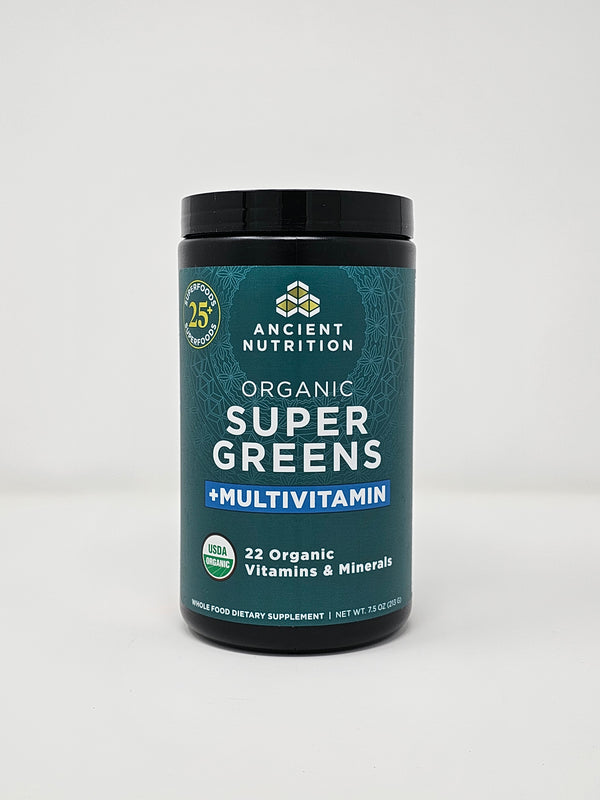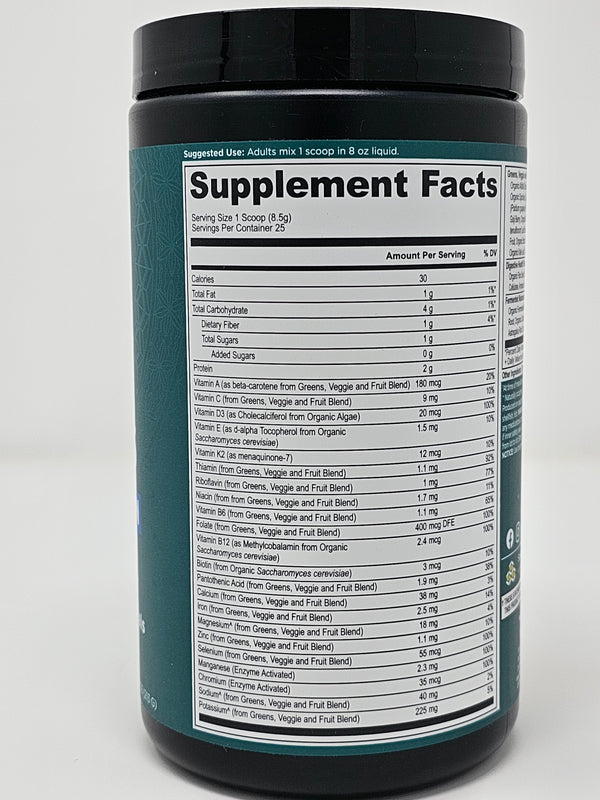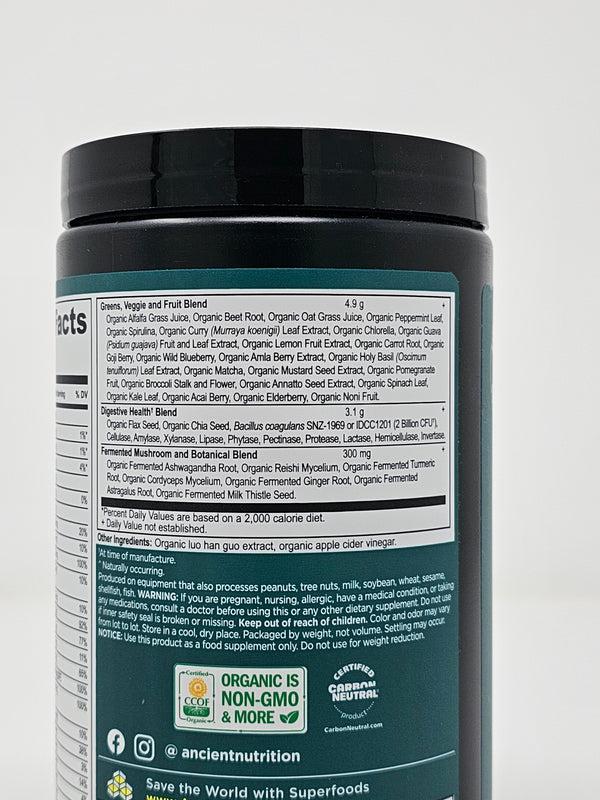 Key Ingredients
In addition to the 25+ organic superfoods (plus probiotics) found in many of our other Organic SuperGreens powders, this blend features select ingredients to set the foundation for your overall health, including these key vitamins that provide 100% daily value:
Folate
Our Greens, Veggie and Fruit Blend provides B vitamins like folate, which is important for generally supporting healthy energy levels and more.
Vitamin B12
Vitamin B12 is an essential vitamin that your body needs, but can't produce. We've included 2.4 mcg of vitamin B12 (as methylcobalamin from organic Saccharomyces cerevisiae) in every serving to help promote healthy energy and support overall health and wellbeing.
Vitamin D3 (as cholecalciferol from organic algae)
It's estimated that over 40 percent of the population comes up short in vitamin D. Vitamin D3 is important for maintaining health and plays a role in every tissue and cell in the body.
Full List Of Ingredients
Greens, Veggie and Fruit Blend
Organic Alfalfa Grass Juice, Organic Beet Root, Organic Oat Grass Juice, Organic Peppermint Leaf, Organic Spirulina, Organic Curry (Murraya koenigi) Leaf Extract, Organic Chlorella, Organic Guava (Psidum guajava) Fruit and Leaf Extract, Organic Lemon Fruit Extract, Organic Carrot Root, Organic Goji Berry, Organic Wild Blueberry, Organic Amla Berry Extract, Organic Holi Basil (Oscimum tenuiflorum) Leaf Extract, Organic Matcha, Organic Mustard Seed Extract, Organic Pomegranate Fruit, Organic Broccoli Stalk and Flower, Organic Annaffo Seed Extract, Organic Spinach Leaf, Organic Kale Leaf, Organic Acai Berry, Organic Elderberry, Organic Noni Fruit.

Digestive Health Blend
Organic Flax Seed, Organic Chia Seeed, Organic Apple Fiber, Bacillus coagulans (2 Billion CFU), Cellulase, Amylase, Xylanase, Lipase, Phytase, Pectinase, Protease, Lactase, Hemicellulase, Invertase.

Fermented Mushroom and Botanical Blend
Organic Fermented Ashwagandha Root, Organic Reishi Mycelium, Organic Fermented Turmeric Root, Organic Cordyceps Mycelium, Organic Fermented Ginger Root, Organic Feremented Astragalus Root, Organic Fermetned Milk Thistle Seed.
Other ingredients Organic luo han guo extract, organic apple cider vinegar
* These statements have not been evaluated by the Food and Drug Administration. This product is not intended to diagnose, treat, cure, or prevent any disease.