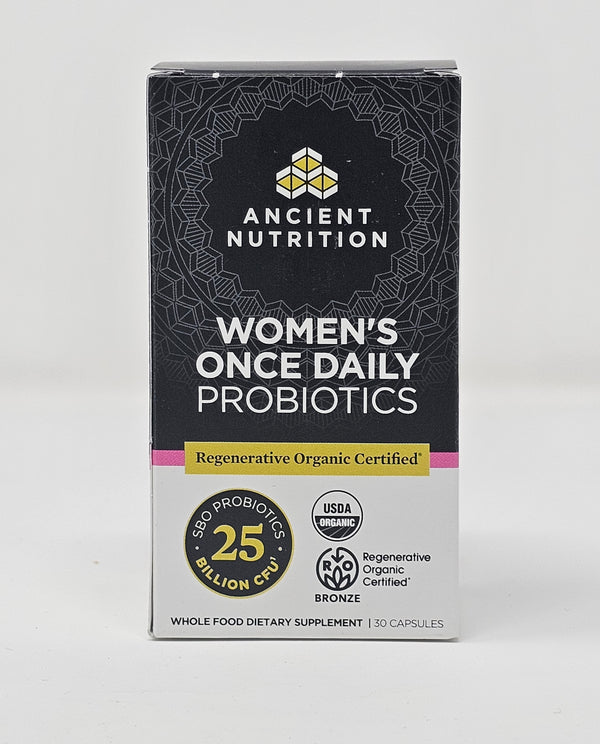 The first-ever combination of 30 total strains plus female health-supporting mushrooms, mycelium and vitamin D3 to support women's gut health and reduce occasional bloating† (packed into just one convenient capsule!).
Superfood Blend
Here's something we're proud of: this formula packs in Regenerative Organic Certified® (ROC™) reishi mushroom mycelium and chaga mycelium. Our ROC™ mushrooms and mycelium are grown entirely on our own Regenerative Organic Certified® farmland. These ingredients have been used for centuries to support optimal women's health.
Fermentation
Fermentation works to unlock important nutrients and compounds within the ingredient, which helps make it easier for your body to absorb — so you're getting more out of the supplements you're taking.
30 diverse probiotic strains
This formula combines soil-based organisms with lactic acid bacteria for our most diverse formula yet. It also includes proprietary strain Bacillus subtilis AB22, which is a highly effective, live culture strain that was primarily developed by Ancient Nutrition founder Jordan Rubin. Designed to survive and thrive in your gut, this first ever Regenerative Organic Certified® Women's Once Daily Probiotics provides 25 billion CFUs1 in every serving. 1At Expiration Date under recommended storage conditions.
Prebiotics and postbiotics
We take a trifecta approach to gut health by pairing clinically studied probiotics with prebiotics and postbiotics. Prebiotics act as fuel for probiotics, and postbiotics are the metabolites (enzymes and organic acids) that are created by probiotics. Together, they provide powerful support for digestive health.
Full List Of Ingredients
Vitamin D3 (as Cholecalciferol from Organic Saccharomyces cerevisiae), Superfood Blend Regenerative Organic Certified® Reishi Mushroom Mycelium, Regenerative Organic Certified® Chaga (Inonotus obliquus) Mycelium. Probiotic Blend Bacillus subtilis AB22, Bacillus coagulans, Saccharomyces boulardii, Lactobacillus acidophilus, Lactobacillus plantarum, Lactobacillus casei, Lactobacillus paracasei, Lactobacillus rhamnosus, Lactobacillus crispatus, Lactobacillus bulgaricus, Lactobacillus reuteri, Lactobacillus fermentum, Lactobacillus salivarius, Lactobacillus helveticus, Lactobacillus gasseri, Lactobacillus brevis, Lactobacillus sakei, Lactobacillus johnsonii, Lactobacillus genseni, Lactobacillus amylovorus, Bifidobacterium lactis, Bifidobacterium bifidum, Bifidobacterium breve, Bifidobacterium longum, Bifidobacterium infantis, Bifidobacterium animalis, Bifidobacterium adolescentis, Streptococcus thermophilus, Streptococcus salivarius, Lactococcus lactis subsp. lactis. Other ingredients Organic pullulan
Gluten Free, Soy Free, Dairy Free, Non-GMO, Organic
*These statements have not been evaluated by the Food and Drug Administration. This product is not intended to diagnose, treat, cure, or prevent any disease.