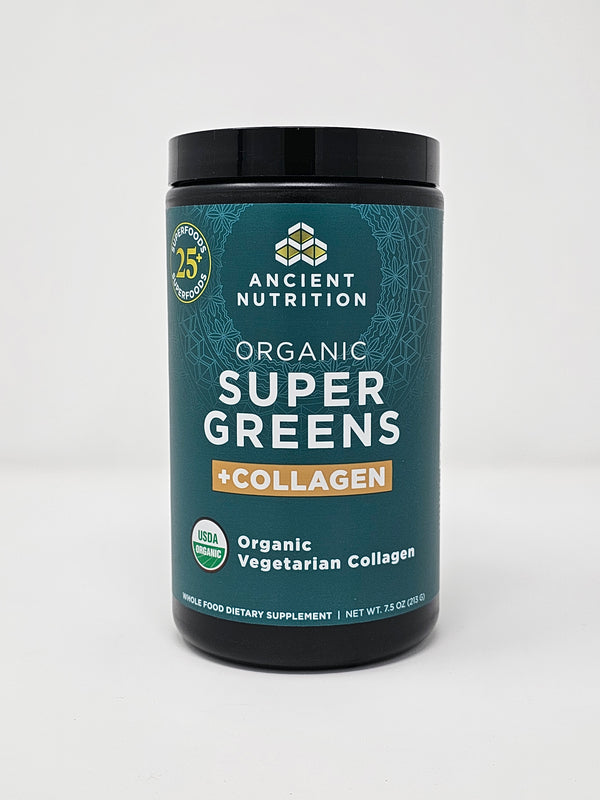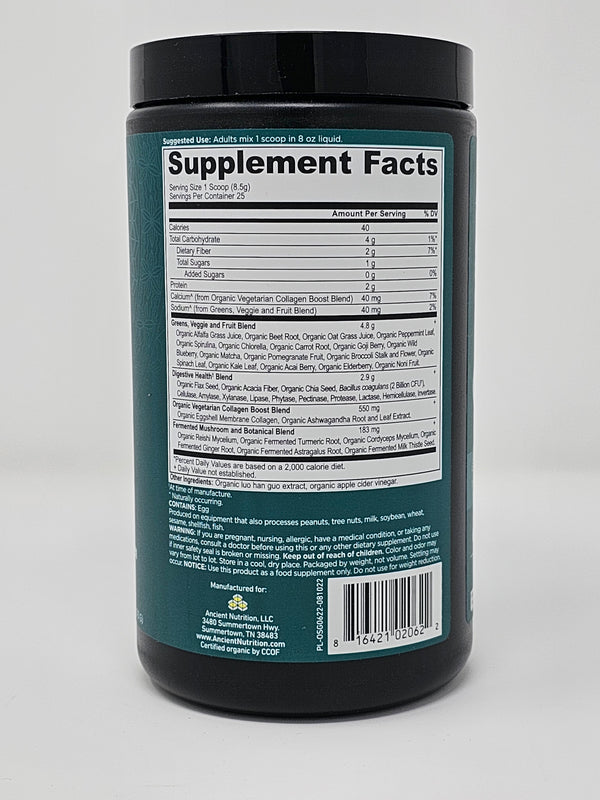 Key Ingredients
In addition to the 25+ organic superfoods (plus probiotics) found in many of our other Organic SuperGreens powders, this blend features select ingredients to support whole-body wellness.
Organic Vegetarian Collagen Boost Blend
This blend combines clinically studied organic eggshell membrane collagen and organic ashwagandha root and leaf extract to nourish your joints and skin.†
Organic Alfalfa and Oat Grass
Our formulas are made with real grass juices (organic alfalfa grass juice & organic oat grass juice), which support healthy detoxification and energy.† Alfalfa means "king of the herbs" because its roots go deep into the soil and they pull inorganic minerals out of rock and convert it to usable minerals that your body can convert into energy. Oat grass and wild oats have traditionally been used as an herbal for energy and endurance.
Organic Ashwagandha
Ashwagandha is one of the most-researched adaptogenic herbs available. We use a clinically studied, organic source of ashwagandha root and leaf extract proven to help support healthy energy levels, mental clarity and concentration, restful sleep and helps your body alleviate the effects of stress.†
Full List Of Ingredients
Greens, Veggie and Fruit Blend
Organic Alfalfa Grass Juice, Organic Beet Root, Organic Oat Grass Juice, Organic Peppermint Leaf, Organic Spirulina, Organic Chlorella, Organic Carrot Root, Organic Goji Berry, Organic Wild Blueberry, Organic Matcha, Organic Pomegranate Fruit, Organic Broccoli Stalk and Flower, Organic Spinach Leaf, Organic Kale Leaf, Organic Acai Berry, Organic Elderberry, Organic Noni Fruit.
Digestive Health Blend
Organic Flax Seed, Organic Chia Seeed, Organic Apple Fiber, Bacillus coagulans (2 Billion CFU), Cellulase, Amylase, Xylanase, Lipase, Phytase, Pectinase, Protease, Lactase, Hemicellulase, Invertase.
Organic Vegetarian Collagen Boost Blend
Organic Eggshell Membrane Collagen, Organic Ashwagandha Root and Leaf Extract
Fermented Mushroom and Botanical Blend
Organic Reishi Mycelium, Organic Fermented Turmeric Root, Organic Cordyceps Mycelium, Organic Fermented Astragalus Root, Organic Fermented Milk Thistle Seed

Other ingredients Organic luo han guo extract, organic apple cider vinegar
*These Statements have not been approved by the FDA. These products are not intended to diagnose, treat, cure, or prevent disease.